The Ultimate Owensboro Weekend Getaway
Owensboro, Kentucky is just a hop, skip and jump over the Ohio River from Indiana. And only 30 minutes from Holiday World & Splashin' Safari, one of my top things to do in Indiana. It's a great destination for families and couples, and those visiting Santa Claus who are looking for a variety of lodging and dining options.
I spent the weekend with my husband, Paul, in Owensboro (although, I could foresee a future girl's getaway here as well). It is the county seat for Daviess County, known for Bar-B-Q, Bluegrass, and Bourbon. They have a fabulously revamped downtown and riverfront with eateries, coffee shops, parks, museums, and hotels. 
With a braggable arts and music scene, I left Owensboro feeling like I had visited Nashville, Tennessee. Except without the hustle and bustle of big city traffic, noise, and cost. Follow my itinerary to see what we did on our weekend getaway – it was an experience!
Disclaimer: Blog posts may contain affiliate links and/or ads. If you click on these links I may earn a small commission. This helps keep the blog running and supports my family – at no cost to you. If you have any questions, feel free to read my disclaimer and privacy policy.  A special thanks to Visit Owensboro for hosting my trip. All opinions in this article are my own.
Day 1 in Owensboro
After a day at Holiday World & Splashin' Safari in Santa Claus, Indiana, we made the short drive to Owensboro and grabbed dinner at Old Hickory Bar-B-Q. The historic Old Hickory is six generations in the making and a local favorite. It's a no-frills establishment that started in 1918 and is known for its famous mutton, award-winning bar-b-que, and cooking sauce.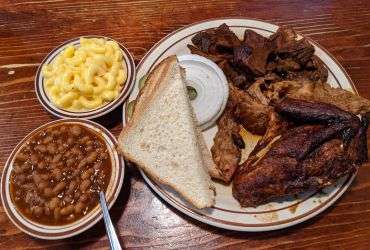 Mutton is an Owensboro delicacy, and there is a story behind it. Daviess County was a home to many German Immigrants who raised wool for sheep, and used the meat for mutton. It was a staple in the 1800s and remains on menus to this day – unique to Owensboro. I had never tried mutton before this trip and I'm glad I did. It was tender and juicy. You've gotta give it a try!
After dinner, we checked out Owensboro's Sassafras Tree, the world's largest Sassafras tree. It's located just off Frederica Street in front of the State Farm building. At over 100 feet tall and more than 21 feet wide, it is quite the quirky roadside historic sight.
For the weekend, we stayed at the polished Holiday Inn Owensboro Riverfront located directly on the banks of the Ohio River. Sitting within walking distance of the Bluegrass Hall of Fame & Museum, Smothers Park, and restaurants. After checking in, we took a stroll along the river walk and enjoyed the hotel's outdoor seating area.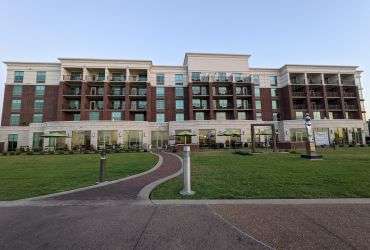 Day 2 in Owensboro
I was excited about our first stop of the morning: breakfast at Gramp's Coffee & Donuts. Upon entering the cafe, we were greeted by Gramp himself. I had read fellow Holiblogger Suburban Turmoil's blog about Gramps prior to my visit, so I knew the story and recognized his face. It's a family-run donut shop celebrating life and community through delectable croissant donuts, coffee, and espresso drinks.
We polished off those donut calories with a self-guided tour of the Owensboro Museum of Fine Arts River Artes public art. It includes 21 pieces of art throughout Owensboro. You can grab a tour brochure with a map at the Visitor Center at 215 East 2nd Street, Owensboro or the Owensboro Museum of Fine Arts (free admission) at 901 Frederica St, Owensboro.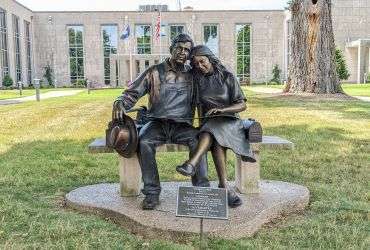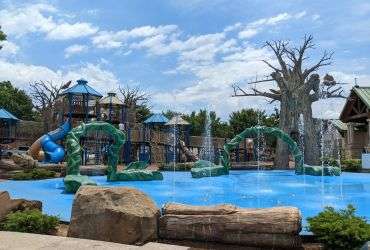 Smothers Park is another downtown, riverfront location that we checked out. It's so cool, in 2015 it was named the top playground in the world by Landscape Architect's Network. In addition to the enormous playground and water play area, there are signature fountains, overlooks, picnic areas, the Shelton POW Memorial, RiverFront swings, a concession stand, and restrooms. 
For lunch we dined at the City Walk of Owensboro, a cozy eatery tucked between several of Owenboro's outdoor murals. And inside the City Walk, murals of the city line the walls. Locals suggested we try the Kentucky Hotbrown and Bourbon Glazed Pork Loin. Both were delicious and satisfying. After that meal, we needed a nap. We grabbed a cold drink from the eclectic and artsy Creme Coffee House before heading back to our hotel.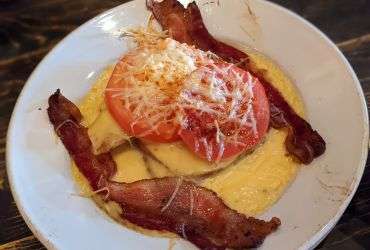 (I've heard somewhere that if you drink coffee 20 minutes before a nap, it helps you sleep better. That somewhere is from your favorite travel writer, who likes to fit in visiting every coffee shop in every town she visits.)
After dark – dinner, and nightlife
For dinner, I made reservations for the Spirits Lounge at The Miller House. The Miller House is a historic landmark that has been restored into three levels of dining. Reservations are highly recommended. The Spirits Lounge is located in the basement and is very popular because it contains the largest Bourbon Bar in Western Kentucky. It's aesthetically pleasing and romantic with exposed brick walls, candlelit tables, live music, and a mysterious charm.
Tip: Get the Southern Sampler, the cheese torte is a "chef's kiss."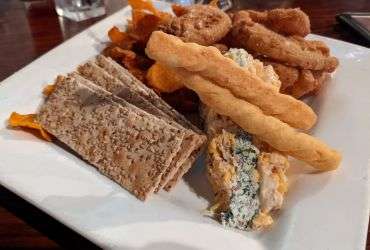 Our night ended with a popular Owensboro event: Fridays After 5. A popular, family-friendly, free event held every Friday from 6 pm to midnight for 16 weeks every summer. Stages with bands are set up along the Riverfront offering entertainment throughout the night. Spectators can walk along the Riverfront to visit each stage, vendors, and food trucks. There was a stage at the Holiday Inn, so we were able to enjoy music directly from our hotel!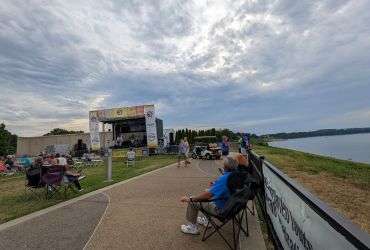 Day 3 in Owensboro
Red Swing Coffee was my morning motivation for our last day in Owensboro. I was impressed with the number of local coffee shops within walking distance of the hotel. I'm one happy camper when I have a latte in my hand. Red Swing had great lattes and these unique and delightful bubble waffles too. We chatted with Brandon, half of the husband-and-wife duo owners. As he told me the story behind the name of Red Swing I began to see a theme here in Owensboro. Family and community involvement is important to these businesses, and their stories are personal and have meaning and purpose.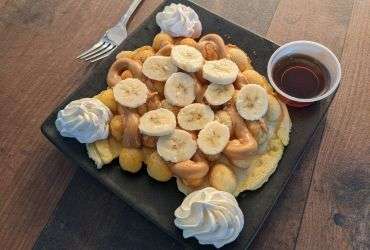 The Bluegrass Hall of Fame & Museum was one of the stops I was looking forward to the most. It did not disappoint. After a self-guided tour of the museum exhibits and hall of fame, we poked around at the Pick & Play section at the beginning of the museum. In this area, anyone is welcome to pick-up and play a variety of instruments. Executive Director and musician, Chris Joslin, joined us and played a few songs with Paul. It was a great experience!
The Bluegrass Hall of Fame & Museum also participates in Fridays After 5, is a concert venue, and hosts the annual ROMP Fest.
Daviess County is located along the Kentucky Bourbon Trail, and home to the Green River Distilling Company – the fourth largest independent bourbon distillery in the United States. It's not often I write about distilleries in my articles, my writings typically focus on coffee and food. And I love a good piece of history. The historical Distillery Tours are educational, and allow you behind the scene of the 28 acres of production, and into original buildings from as early as 1885 (bourbon tastings are optional).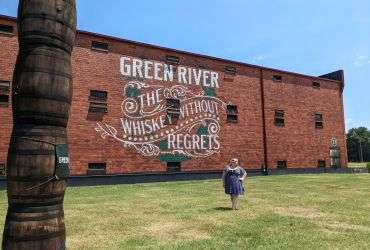 The Western Kentucky Botanical Garden is a slice of horticultural heaven. It's an oasis of 13 themed gardens, the historic Weatherberry home, and several event spaces. The World's Largest Basket, the "Bouquet for Marjorie" is an iconic public art piece in the garden. We took a self-guided tour of the gardens and got to see it dressed up for a wedding that would be taking place later that day. This was our last stop before grabbing lunch and heading home.
Speaking of lunch, The Cottage Farm Stand caught my eye for coffee but their menu enticed us to grab food here as well. They have originals like "The Owensboro" burger and "The Cottage Latte" on their menu. I love themed menu items – I have to get them. So naturally, these were both ordered. The burger came on a Niko's Bakery Brioche Bun, which was a bonus since we didn't get a chance to try Niko's this visit. Two thumbs up for The Cottage and their sweet cafe.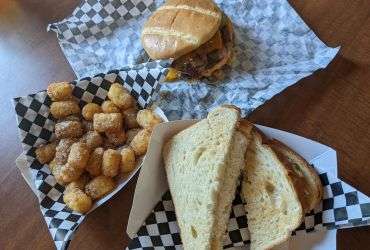 That's a wrap for our weekend getaway in Owensboro! What places would you like to visit in Owensboro? Did I miss a spot I should check out next time? Let me know in the comments below!
Itinerary Locations:
Other places to check out: 
Moonlite BBQ Inn

Niko's Bakery & Cafe

Homeplace of Bill Monroe
Pin It For Later!
Other articles you might enjoy:
A Dad's Guide To Holiday World
Guide to Visiting Indiana's French Lick Resort
8 Reasons You Should Visit Evansville, Indiana
10 Instagram Worthy Spots at Holiday World & Splashin' Safari