Road Trip Packing Essentials
Packing for the ultimate road trip can seem overwhelming, but it doesn't have to be with a simple and efficient checklist! I've been on MANY road trips and, every time, I always seem to leave something behind. Hence, the need for a checklist. I've included links to some of my favorite products as well.
Of course, this list is going to be different for each individual and family. For example, if you don't plan to visit parks or hiking you'll want to eliminate things like hiking boots and portable hammocks.
Disclaimer: Blog posts contain affiliate links. When you click on these links I earn a small commission that helps keep this blog running and support my family. If you have any questions, feel free to read my disclaimer and privacy policy. Thank you!
---
---
Road Trip Car Essentials:
Car documents & insurance info
Road Atlas (yes, I know it's 2020 but a road atlas has proven essential in places where I have no signal for GPS)
Reusable insulated bottle (reduces plastic bottle waste and keeps your beverage cool, or warm, for longer)
Cell phone mount (for hands-free driving)
Charging cables (for phones, tablets, etc.)
Bluetooth charger/transmitter (for hands-free calling and AUX output)
Face masks
Hand sanitizer and wet wipes
A gallon of water, hand soap & paper towels (for those time times when handwashing stations are not available)
Sunglasses
Cooler with drinks
Snacks
Roadside emergency kit (jumper cables, flares, reflective vest, tire pressure gauge, window breaker, flashlight etc.)
Rain jacket or ponchos
Umbrella
Folding camp chairs or hammock (for stops at parks, outdoors, rest breaks, etc.)
Window screen covers (should you need for sleeping/privacy or heat protection)
Sunscreen and bug spray
Road trip playlist (music, podcasts, etc. in a playlist or downloaded for your trip)
Cash and change (some tolls still take coins and it's always good to have a few extra bills on you for emergencies)
Ice scraper (if traveling in the winter or to colder climates)
Reusable shopping bags (to collect trash, or store dirty clothes, shoes, sickness bags, etc.)
Motion sickness meds (and other medications)
Passport (if you are planning to cross borders)
Translator (if you are planning to cross borders)
Car battery charger (charge in advance to a road trip)
Camera and accessories (bag, tripod, batteries, etc.)
Toilet paper (hey, ya never know!) and tissues
Binoculars (I wished we would have had these to spot elk on our last road trip!)
Daypack (to store items in for hiking and outings)
Gallon-sized bag with disposable plates/utensils (I throw a handful of disposable plates, napkins, utensils, etc. in a gallon-sized bag for as-needed convenience)
---
Personal Packing Essentials:
Slippers, flip flops or slip-on shoes (ones that are easy to slip in and out of while in the car)
Swimsuit
Laundry bag (for dirty clothes)
Temperature appropriate clothing
Travel packing cubes or bags
---
Kid's Road Trip Essentials:
---
Pet Road Trip Essentials:
---
What Not to Pack:
Hardshell suitcases
Tons of toys
Containers
---
Free Printable!
Click here: Road Trip Essentials Checklist
---
Pin It!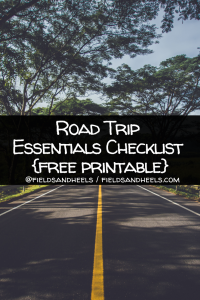 ---
Other articles you may enjoy:
Visiting Wichita with Kids in 2 Days!
The Best Travel Accessories on Amazon