Experience Indiana in Hendricks County
If you want to get acquainted with Indiana, Hendricks County is a great place to do it! Tenderloins, racing, sugar cream pie, and Hoosier hospitality – all things Indiana and here in Hendricks County, located just east of Indianapolis. I spent the weekend checking out everything this friendly part of the state has to offer and found several unique ways to experience Indiana.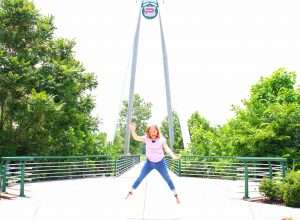 Check out my other articles on Hendricks County here:
---
A special thanks to Visit Hendricks County for hosting my trip. All opinions in this article are my own.
Disclaimer: Blog posts may contain affiliate links and/or ads. If you click on these links I may earn a small commission. This helps keep the blog running and supports my family – at no cost to you. If you have any questions, feel free to read my disclaimer and privacy policy. Thank you!
---
1. Racing at Lucas Oil Raceway
The Lucas Oil Raceway in Brownsburg is legendary for its drag strip. It offers three unique tracks – a quarter-mile drag strip, .686-mile paved oval, and a 2.5-mile road course. Over a hundred races take place here annually and I got to attend its biggest one – the Dodge//SRT U.S. Nationals. The U.S. Nationals is the most prestigious drag racing event in the world and it's hosted at Lucas Oil Raceway every Labor Day weekend.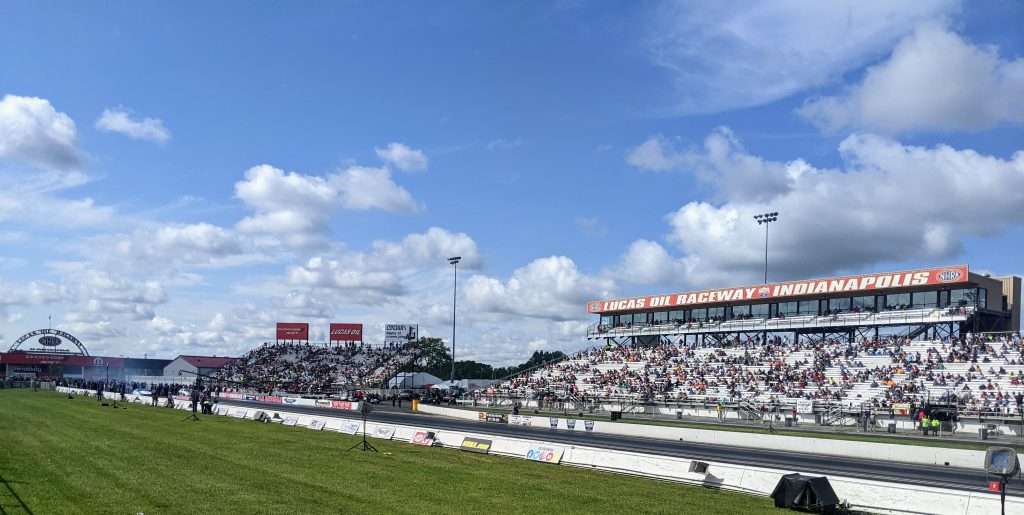 Every ticket to the U.S. Nationals is also a Pit Pass, this means that everyone gets an opportunity to have an up-close experience with the drivers for photos and autographs. It's an all-day and all-weekend event for families with activities for kids, food stands, and giveaways. Speaking of kids, admission is free for those ages 12 and younger.
Although the Dodge/SRT U.S. Nationals only happens once a year, there are races throughout the Spring, Summer, and Fall. Check out the schedule here.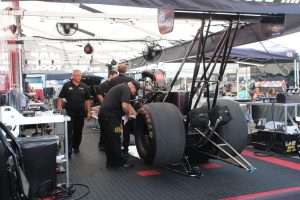 Best Friends Coffee & Bagels
Another stop in Brownsburg included a coffee break at Best Friends Coffee & Bagels, famously known for their cold brew and "Pick-Me-Up" flights (caffeinated fruity drinks). They also serve a Vietnamese Cold Brew, specialty bagels, breakfast and lunch sandwiches, pastries, and biscuits and gravy. The unique menu names pay tribute to loved ones and friends of the owners. Speaking of the owners, Chico and Bob are best friends who decided to open a coffee shop together.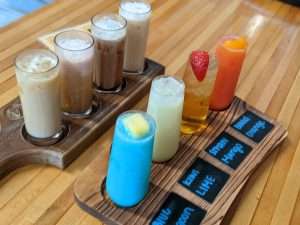 Best Friends Coffee & Bagels is a family-friendly atmosphere with two rooms of seating, which includes tables and couches. Don't miss the adjacent room to the cafe – there is additional seating and games offered there as well.
---
2. Spend a Day in Danville
There is so much to do in Hendricks County, all season long! I personally fell in love with charming Danville, Indiana, the county seat of Hendricks County. Their Hoosier hospitality shows in the community, I felt welcomed as a visitor and everyone was so friendly.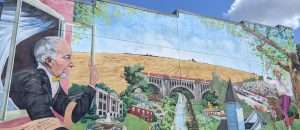 Ice cream & coffee in Danville
While in downtown Danville, I hit up some great spots. Danville Dips is a local ice cream parlor that carries over twenty-four flavors of hand-dipped ice cream (I recommend the Caramel Caramocha). They have soft serve custard, floats, smoothies, and hot sandwiches available as well. Next door, the Speakeasy Books and More is a unique used bookstore with games, a children's area, beverage and snack bar, and open mic nights.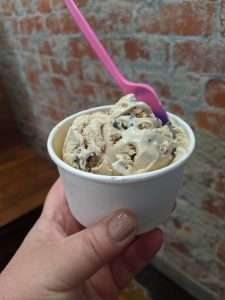 After eyeing their Instagram page, I decided to stop by the Bee Hive for lunch. The Bee Hive has a full lunch and breakfast menu and espresso bar. They also have a small market with local honey products is available at the back of the store. I had a build-your-own salad and honeybean latte, made with their own honey!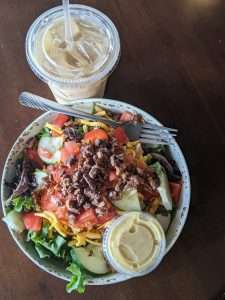 ---
3. Dine at the Mayberry Cafe
My stop for dinner at the Mayberry Cafe gave me a glimpse of why Danville is home to the annual "Mayberry in the Midwest" annual festival. When I walked into the Mayberry Cafe, it felt like I had stepped onto the set of the Andy Griffith Show. The cafe serves home-cooked foods just like Aunt Bee would, and looks a lot like her kitchen. It's filled with memorabilia from the show, and outside the cafe sits a Ford Galaxie squad car. It makes a great photo opportunity!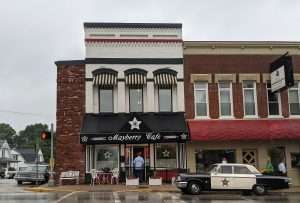 I just so happened to be visiting on the night that the Mayberry Man, a movie that was filmed in Danville, was being premiered at that Royal Theatre. The family of the producer and director were dining at the Mayberry Cafe and I had a nice chat with them while we were waiting in the lobby area. You never know who you'll run into in friendly, small-town Danville!
---
4. Visit the Cider Bar at Beasley's Orchard
No trip to Danville is complete without a visit to Beasley's Orchard! Beasley is family-owned and operated, and is a great place to take the family. Their farm market is full of fresh produce and goodies, including their Cider Bar – Beasley's was voted Indiana's best apple cider in 2020. Outside there is plenty to do from season produce picking to Fall festivities like their 8-acre corn maze, hayrides, games, entertainment, and more.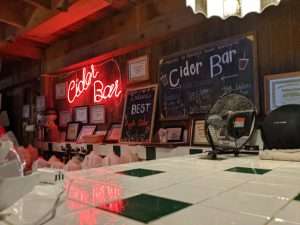 ---
5. Shopping in Plainfield
The Shops at Perry Crossing in Plainfield are open seven days a week and have all your shopping and dining needs. There is even an AMC 18-screen movie theatre and the Courtyard by Marriott Indianapolis Plainfield is located on-site. Occasionally The Shops hold events, like movie nights in the summer and holiday festivities in the winter.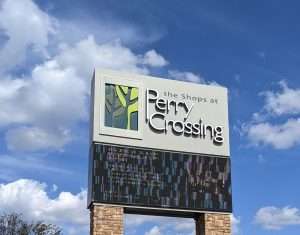 ---
6. Get a tenderloin and sugar cream pie at Oasis Diner
Plainfield is located right off of the Historic National Road, or US Route 40 – one of Indiana's great scenic highways! Visiting Plainfield is a great opportunity to cruise along the National Road and take in some of the sites and spots along US Route 40. One of those stops is the popular Oasis Diner, one of five of the last remaining historical diners on US 40 between Maryland and Illinois.
The historic 1950s Oasis Diner is known for its tenderloins (an Indiana classic), Oasis burger, handcrafted sodas, and homemade pies.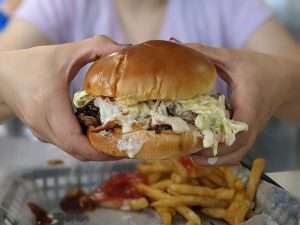 ---
Other fun things to do in Hendricks County:
---
Where to stay?
Staybridge Suites – 6295 Cambridge Way, Plainfield, IN
Staybridge Suites in Plainfield has spacious and cozy suite accommodations! I love the floorplans, the rooms offer a bedroom and bathroom space separate from the living room and kitchen/dining area. Parking and wifi are free, and a hot complimentary breakfast buffet is included every morning. They have a social reception in the evenings where free drinks (soda and wine) are available to guests in their reception area.
---
Nearby things to do:
---
Pin It For Later!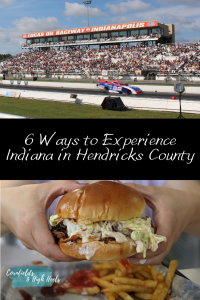 ---
Other articles you might enjoy: