Visiting Wichita with Kids in 2 Days
Last month we took a little road trip to Kansas!  This was my first time in Wichita, Kansas and it was even sweeter with one of my best friends and her kiddos riding along. We spent a few days visiting their home of Wichita before heading back to Indiana. While we were there we enjoyed several unique spots that I can't wait to tell you about!
Keep in mind that we were visiting these spots with four kids, ages 3-15, so all of them are family-friendly and great for a variety of ages.  Adults included! First off, I discovered Kansas has a lot of prairie and grasslands.  It also is known for some beautiful viewing spots and landmarks. We specifically spent our two full days in Wichita.
---
Disclaimer: Blog posts may contain affiliate links and/or ads. When you click on these links I may earn a small commission that helps keep this blog running and support my family. If you have any questions, feel free to read my disclaimer and privacy policy. Thank you!
COVID disclaimer: When traveling and visiting businesses, please check state and business guidelines and hours before arriving. As always, be safe for yourself and others!
---
* DAY 1*
Our first stop was Tanganyika Wildlife Park. This is the coolest wildlife park I've ever been to!  It's a smaller, more intimate park where the kids have the opportunity to feed and encounter animals up close.  You can make a reservation in advance to ensure a personal encounter with one of your favorite animals.  A wide variety of animals are here, including pygmy hippos, giraffes, lemurs, cheetahs, rhinos, elephants, camels, tortoises, penguins, goats, alpacas, and more!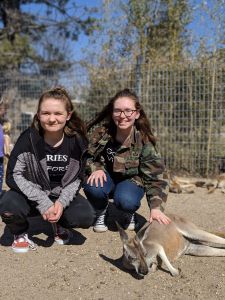 Children 2 and under, and seniors (90 and older), are always free.  I  suggest buying a membership if you live in the area, it's much more affordable than daily admission.  I noticed that they were also available on Groupon at the time, so check there for occasional discounts too!
It was time for some lunch!  We worked up an appetite at Tanganyika and were eager to head to a perfect brunch spot.  My Yelp review:  "After reviewing the excellent Yelp reviews, Homegrown instantly became our lunch spot choice!  Serving both breakfast and lunch, they are open daily from 6:30 am to 2:30 pm. They have a passion for their community and serving locally sourced foods.  The atmosphere is sleek and cool with a stylish farmhouse theme.  They also serve local coffee and fresh-squeezed orange juice!  Known for their homemade pop tarts, avocado toast, french toast, and delicious sandwiches you just can't go wrong!  We definitely suggest the Avocado Toast." – Jamie Ward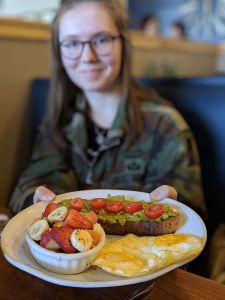 After lunch, we made an afternoon coffee stop at Moxi Junction in Maize, Kansas.  MOXI stands for "Moms With Exceptional Individuals" and it is run by moms of special needs children who serve as employees at Moxi. What an amazing concept!  Moxi is an eclectic establishment, adorned with art and handcrafted pieces displayed everywhere.  With drinks from lattes, to smoothies, frappes, and espresso, there is a little bit of something for everyone.  They are also known for their delicious-looking baked goodies such as cinnamon rolls, sticky buns, and muffins.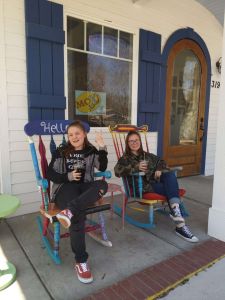 A Wichita visit isn't complete without visiting the Keeper of the Plains in the evening. This iconic Wichita sculpture represents the point where the Big and Little Arkansas rivers join together, the land between the rivers is sacred grounds for the Native American people.  It was created to celebrate the United States Bi-Centennial and kept an eye on the city.  Every evening visitors gather to see the "Ring of Fire" light up for 15 minutes every evening at 7 pm (and also at 9 pm in the summer).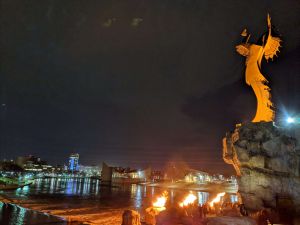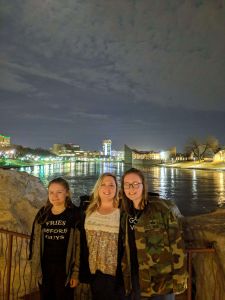 * DAY 2 *
Oh, what fun this place was!  One of the last stops during our Wichita visit was the Old Cowtown Museum.  Although it wasn't quite open for the season, with actors in character (open year-round, but the prime season is April 21st-October 27th), it was still a really special visit.  This museum is an interactive, outdoor experience of life in the late 1860s and 1870s in Kansas.  Fifty-four structures are restored and recreated to this experience along the Arkansas River.  You can even visit the original saloon and order a root beer and hot dog! We splurged on some old-fashion portraits at Baldwin's Old Time Photos while visiting. During our mid-March visit, we really felt like we had the whole place to ourselves and could easily have spent an entire day here.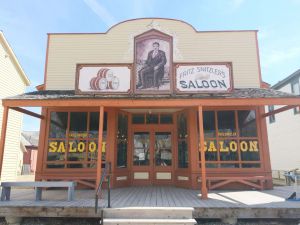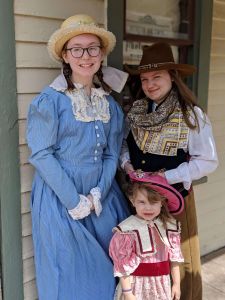 You can't leave Kansas without getting some bbq!  Choosing the right barbeque joint can be tricky, all the reviews I checked had pros and cons – I quickly realized that people are just darn picky about their b-b-q! I can't blame them though, barbeque is a serious business. You have the argument of which state serves the best, I'm pretty sure Kansas is right on up there with the best of barbeque states. Hog Wild Pit caught my eye on Yelp, their large portion sizes and prices were right up my alley. In fact, my daughter and I shared a combo and it was so huge we both didn't even finish it!  If you want some good bbq at an affordable price – this is the place to be!
Checkout out our YouTube video on visiting Wichita!
---
Pin It!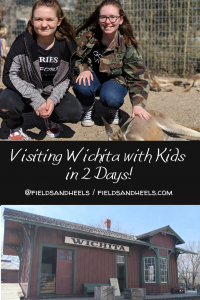 ---
Other articles you might enjoy:
Ozark's Buffalo River Trails in Northern Arkansas
Places to Explore in Richmond, Indiana