The Ultimate Guide to Christmas in Chicago!
There is something magical about celebrating Christmas in Chicago.  Most years I make a trip to Chicago around the holidays to celebrate the Christmas season.  I fell in love with Chicago as a teenager and visit as often as I can.  Nowadays I'm usually making a trip in November or December with the kids, friends, or alone with my husband.
Sometimes we will go for just a day, but when traveling as a couple we like to stay overnight if possible (it's much more affordable for us because then we only need one room when we don't take the kids).  I like to try something new each year if it's possible and this year I added several new activities to our itinerary.
---
Blog posts contain affiliate links. When you click on these links I earn a small commission that helps keep this blog running and support my family. If you have any questions, feel free to read my disclaimer and privacy policy. Thank you!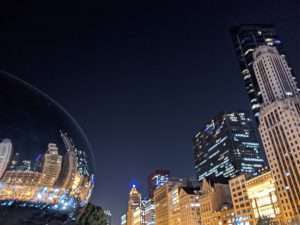 We ate dinner in the Walnut Room at Macy's, stayed overnight on the Magnificant Mile, and even got to see the tree lighting in Millenium Park. In past years we've enjoyed Winter Wonderfest (now called "Light up The Lake) at Navy Pier, shopping downtown, and Chicago Christkindlemarkt. There are so many places to visit and things to do for Christmas in Chicago; I've narrowed down my favorites on this list.
---
NAVY PIER'S LIGHT UP THE LAKE
If you are taking kids, visiting the Light Up the Lake on Navy Pier (formally "Winter Wonderfest") is a must-do around the holidays. Admission includes access to all of the rides, activities, and ice skating inside the Navy Pier.  It's a Christmas festival with over 23 rides and activities, including bumper cars, a tubing slide, mini-golf, and lots of photo opportunities.  Special areas are available for younger tots and for meeting characters and Santa!  You can definitely make an entire day just out of Winter Wonderfest.
Discounted tickets to Navy Pier's Winter Wonderfest are also available on Groupon by clicking this link!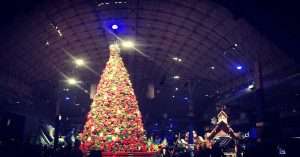 MILLENIUM PARK TREE LIGHTING & ICE SKATING
Every year the Millenium Park tree is lit up and a festival of live music, activities, and Santa happens!  This usually takes place the Friday after Thanksgiving around 6 pm, but the date varies each year.  Lots of people arrive for this and if you aren't a fan of crowds you can always arrive after the tree lighting to still see it's beauty and get photos.
Ice skating at the McCormick Tribute Ice Rink in Millenium Park is FREE and open to the public.  The rink operates from November to March and anyone can bring their own skates and skate for free, or you can rent skates for a fee (rates between $10-$15 depending on size).  Additionally, ice skating lessons are free for all ages and skill levels (check their dates on the website for specific days).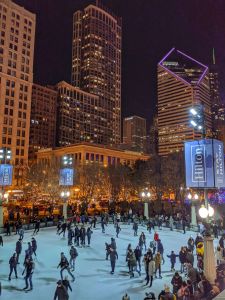 CHICAGO CHRISTKINDLMARKT
Living in central Indiana, I have access to one of the best Christkindlemarkt in the nation.  But there is something magical about visiting the Chicago Christkindlemarket on Daley Plaza as well!  It's HUGE!  Filled with vendors upon vendors, and delicious treats to eat and hot drinks to sip.  Take a stroll inside the market for all the smells – it's worth it and admission is free!   Check out their events for special music and the Kinder Club for kid's activities.
ZOOLIGHTS AT LINCOLN PARK
Zoolights is probably one of Chicago's most popular holiday activities.  It's family-friendly, free, and features hundreds of light displays throughout the zoo.  Admission to the Lincoln Park Zoo is normally free but offering Zoolights as another free experience is incredible!  2.5 million lights offer a joyful experience, along with opportunities to visit Santa, shop, see live ice-sculpting, characters, and musical light shows.  A lighted maze and Ferris Wheel are also available for a small cost.  So be sure to check their calendar for dates and event schedules!
SHOPPING & SIGHTSEEING ON MAGNIFICENT MILE
Every year my daughters and I would skip our way down to Tiffanys on the Magnificent Mile to get a glimpse of all the shiny diamonds and their gorgeous teal blue and white Christmas decorations.  The entire Magnificent Mile is hustling and bustling with holiday shopping and store windows displays lit up for the season.  And after Thanksgiving, lighted trees line Magnificent Mile displaying a beautiful array of holiday lights.  Every year they have the Magnificent Mile Lights Festival, including a parade, one weekend in November.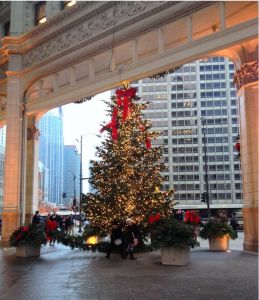 CHICAGO UNION STATION POLAR EXPRESS
In November the Union Station in Chicago transforms into the Polar Express, offering one-hour rides on the Amtrak trains.  The trains are decorated for Christmas and feature dancing chefs, serving cookies and hot chocolate, and a visit from Santa and his elves, all inspired by the film, The Polar Express.  Tickets are available on their website.
DINE AT THE WALNUT ROOM IN MACYS
The world-famous Walnut Room, on the top floor of Macy's, has been serving customers since 1905.  Known for its Circassian wood paneling imported from Russia and Austrian chandeliers, the Walnut Room displays The Great Tree every year in the center of their dining room.  In past years you would need to make reservation months (if not a year) in advance or wait in 3+ hour-long lines to be able to dine at the Walnut Room, but that all changed in 2019.  In order to curb the long waits, the Walnut Room now offers a Great Tree Buffet in addition to their menu options.  This allows customers to come and go at a faster pace.  Reservations are still HIGHLY recommended and fill up fast, and I suggest making them several months in advance.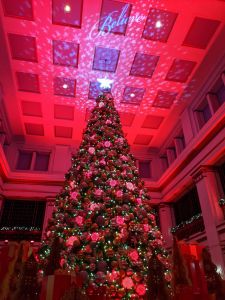 THE CHRISTMAS CAROL AT THE GOODMAN THEATRE
I love to go watch Christmas Carol, at the Goodman Theatre!  It's one of my favorite theatres in Chicago and they put on a fabulous production of this every year.  You'll want to purchase tickets in advance.  An insider tip:  For discounted tickets, check the website at 10 am the day of the performance for 1/2-off tickets in the mezzanine section.  There are also discounted tickets available for college students and active military/first responders (see discount ticket details here).
GRAB A HOT CHOCOLATE AT BOMBOBAR
When I think of hot chocolate, I think of Bombobar and their amazing idea of chocolate in a cup!  You'll have to fork out some $$ for this (around $11 for a hot chocolate) but it's worth it for this Instragramable treat.  If you enjoy hot chocolate, in a chocolate-rimmed cup, topped with whipped cream, a waffle cone, a brownie, a whoopie pie, and lots of sprinkles, you'll enjoy the Chocoholic at Bombobar.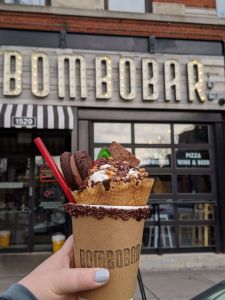 ---
Pin It!
---
Other posts you might enjoy: