Staying in a hotel?
Travel has changed in 2020, that's for sure! Typically I will stay in an Airbnb, cabin, or some type of private rental when traveling, however, I did have my first stay at a hotel with the new guidelines in place. Note that each state, and each hotel, will have different guidelines. I urge you to check this before you travel and, as always, make smart decisions that are best for you and your family.
Disclaimer: Blog posts contain affiliate links. When you click on these links I earn a small commission that helps keep this blog running and support my family. If you have any questions, feel free to read my disclaimer and privacy policy. Thank you!
For this stay, we stayed at a Drury Hotel – each hotel will vary in guidelines and expectations. This video is not sponsored, it is to simply to inform viewers of what travel and overnight stay now look like for 2020. I paid full price for our room and used their 10% discount for Veterans (use code "VET" when checking out).
---
---
Hotel safety, guidelines & expectations
Many precautions were taken at the Drury Inn (Hotel), even more than I mentioned in the video above. However, I've summed up the basic precautions below. Please note, these are the precautions I found at an Indiana Drury Hotel, each hotel will be different.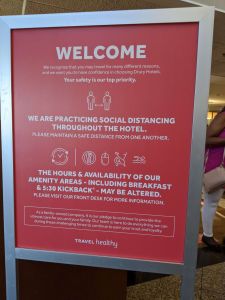 Social-distancing enforced. Six-foot markers are in place for check-in, elevator waits, and complimentary dinner/breakfast areas. Seating is separated and marked appropriately.
Contact-free check-in and check-out. I suggest you reserve your room online. The front desk attendant will request to see your ID and credit card, however, there will be no touching of these items expect by you. There is also a table in front of the check-in desk to ensure a six-foot distance between you and the attendant. A clear shield has also gone up at the front desk as a barrier between you and the attendant. To check-out, you simply leave your key card in the room (you will be emailed a receipt).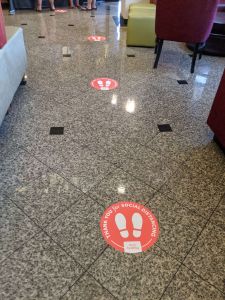 Masked staff. All employees were wearing masks. Those working with food were wearing both a mask and gloves.
Disinfected surfaces. Throughout the hotel, touched surfaces are disinfected throughout the day. This includes, and is not limited to, doorknobs, buttons, light switches, seating, tables, credit card machine, public bathrooms, etc.
Elevator social distancing. You can only take the elevator individually or in your "group." Expect waits to use the elevator during busy times (such as weekends). You can use the stairs to avoid these waits or request a room at a lower level.
Disinfected rooms. Rooms are cleaned AND disinfected. This means all items such as cups, paper pads, pens, K-cups, toiletries (except for toilet paper and tissues), etc. are removed from the room. There were shampoo, conditioner, and soap dispensers available in the showers still available. Remote controls and alarm clocks still remain and are disinfected. Touched surfaces such as doorknobs, light switches, temperature controls, etc. are all disinfected.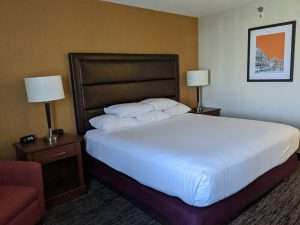 Room decoratives removed. By decorative I am referring to decorative pillows, throws, etc. Items that may not be typically washed between each guest are now removed. I appreciate this and hope hotels continue this beyond the pandemic.
No housekeeping service. If you are staying multiple nights, there are no longer housekeeping services available each day. Instead, you can request items and clean towels through the front desk.
Guidelines for hotel food services. Complimentary breakfast, snacks, dinners, etc. are no longer buffet style. Instead, employees dish up your food behind a clear shield and serve in disposable containers. Since social-distancing is enforced there are fewer tables available to eat at so you may opt to take your food to your room to eat during busy times. Additionally, lobby drinks that are available to guests (such as coffee) no longer have cups available – disposable cups have to be requested at the front desk and can not be reused.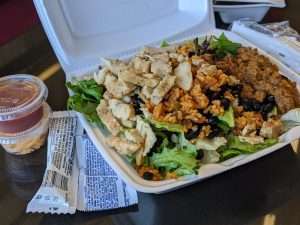 Pool, hot tub, and fitness room restrictions. In order to use the pool and hot tub, or fitness room, you can "reserve" your time to use these facilities at the front desk. They now require reservations to insure that only so many people are using them at one time and there is proper cleaning between guests.
While employees are held to a higher responsibility of following these guidelines, you can't predict how every guest responds to restrictions. Not all guests will follow guidelines, as even I noticed when staying. When traveling, I encourage travelers to follow the state and hotel guidelines to the best of their abilities for their protection and the protection of others.
---
Pin It!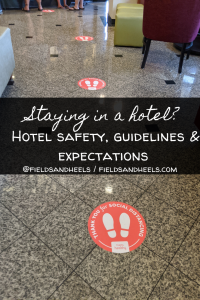 ---