The United States first Union Station was built in 1888, right in the heart of downtown Indianapolis, Indiana.  Over the last 100 years, the station has been converted into many things, two of the biggest renovations being a mall in 1986 and then being converted to the Crowne Plaza Indianapolis Downtown Hotel in 1996.
Crowne Plaza Indianapolis-Downtown Union Station, 123 W Louisiana St, Indianapolis, IN 46225, (317) 631-2221
I paid for this hotel room as a guest.  As always on Cornfields & High Heels, all opinions are my own.
The Crowne Plaza Indianapolis Downtown Hotel
The Crowne Plaza is one of the most historic hotels in the city, known for its gorgeous structures and The Grand Hall, a venue used for weddings and events. What makes the Crowne Plaza so interesting is that the hotel was literally built inside the union station, much of the original structure is still visible.
Hotel rooms are situated among iron beams, original stained glass, and several 1920s Pullman train cars are still standing in the middle of the hotel.  These train cars have each been renovated and converted into actual hotel rooms.  You can spend the night in a real train car, still sitting on the original tracks of the Union Station!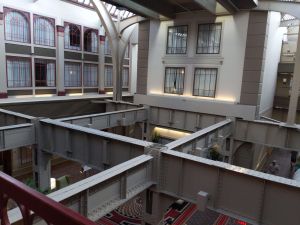 Our anniversary led to an opportunity to stay in the King Bed Pullman Train Car on a lovely summer weekend night.  We arrived at check-in time, which is 3 pm, and opted for self-parking instead of the valet.  I believe the valet parking is around $50 for 24 hours, but self-parking was available right around the corner for around $29 for 24 hours (note that in-and-out privileges were not available for self-parking).  We used Lyft for rides to and from dinner, each way was under $6 for a ride to Mass Avenue.  You can get $5 off your next Lyft ride using this link.
The Ghost Statues
Our train car room was on the 2nd floor, there are 26 train car rooms available with king and double bed options.  While the hotel seems a bit dated, it is rich in history and beauty.  There is a glass elevator that leads to the upper levels of its 3-stories and there are white statues throughout the hotel.  What are these white statues? They aren't hard to miss, we had one right outside our train car!  They are life-sized "ghost statues" of the past, remembrances of the original Union Station.  Some of the statues include a shoe shiner, a flapper, and boys trying to jump onto a train car.  While slightly creepy, they are unique and something you will remember.
The Train Car Rooms
The train car rooms themselves are very narrow and much smaller than a regular hotel room.  It was perfect for just my husband and me, but if we were to have brought the kids it would have felt pretty cramped.  Upon reading reviews, I expected this and actually found it to be roomier than my own expectations.  There is plenty of standing space and even a sitting area, coffee counter, refrigerator, and closet.  A full bathroom with shower/tub, single sink, and toilet is in every train car.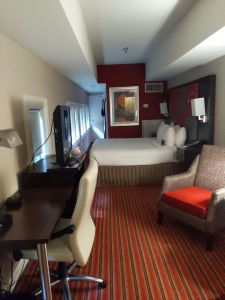 The front desk had warned us that sometimes you can hear trains and feel the vibrations from trains passing through the area but to not worry because, although the tracks in the hotel are still connected to fully functioning tracks they are not in use.  We did, in fact, feel the trains passing by.  Occasionally the train car would shake like a very low-key earthquake, both my husband and I noticed this but it was not disruptive or bothersome.  I'm weird and it was probably actually soothing to me while I slept.
Late Checkout
Can we say hurray for late checkout!?  Checkout isn't until noon at the Crowne Plaza and we took full advantage of that!  We don't live far from downtown Indianapolis, but it was nice to have a 24-hour "staycation" without kids.  We made it unique with our stay in the train car, eating downtown, and drinking a lot of good coffee at some new spots we've been wanting to hit up!
The rest of our Indianapolis anniversary visit:
While staying at Crowne Plaza we also spent some time at 16-Bit, a 90s arcade not far from the hotel.  We enjoyed coffee from Kaffeine Coffee, ate dinner at The Tap (during Savor & Sip Downtown Indianapolis), and brunch at Foundry Provisions.
For more ideas on what to do in Indianapolis, click HERE.  
Nearby things to do: