The Lafayette-West Lafayette area is home to Purdue University and is just a short drive from Indianapolis. Lafayette and West Lafayette are two separate cities offering Tippecanoe County a variety of outdoor adventures, history, museums, culture, and restaurants. Lafayette is the county seat of Tippecanoe County and West Lafayette is just across the Wabash River, where Purdue University is located.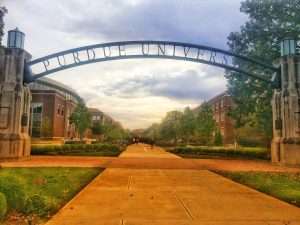 A special thanks to Visit Lafayette-West Lafayette for hosting my trip. All opinions in this article are my own.
Disclaimer: Blog posts may contain affiliate links and/or ads. If you click on these links I may earn a small commission. This helps keep the blog running and supports my family – at no cost to you. If you have any questions, feel free to read my disclaimer and privacy policy. Thank you!
---
Outdoor Recreation
5545 Swisher Road, West Lafayette, IN
Prophetstown State Park is one of the best Indiana state parks for kids! The Farm at Prophetstown's is a 1920s Living History Museum and is located inside the park. It is open seven days a week and teaches families about animals, sustainable agriculture, blacksmithing, and more. The park also has a great Aquatics Center (open seasonally) that features a tube slide, lazy river, zero-entry pool, play features, a body flume, and an adventure channel.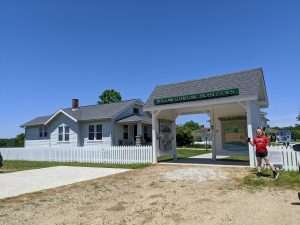 Activities in the park include biking and hiking trails, camping, and birding. The entrance fee is $8 for in-state vehicles ($10 for out-of-state vehicles), or free for those with an annual pass. Admission to the Aquatics Center is $5 per person (ages 3 and under are free).
4004 E 800 N, Battle Ground, IN
Howl and interact with the wolves at Wolf Park, a non-profit conservation and research facility. Visitors can schedule a tour of the faculty online, there are several tours to choose from. We choose to visit during one of the Howl Nights, which take place on Saturdays in the evenings (when the wolves are more active). Upon arrival, guests are given 30 minutes to explore the park, following that an hour program begins – including an opportunity to howl with wolves. Tours range from $5-$15.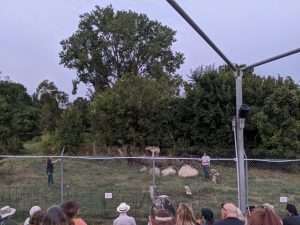 200 Battle Ground Avenue, Battle Ground, IN
The Tippecanoe Battlefield is a 96-acre park and national historic landmark featuring a museum, monument, pioneer chapel, hiking trails, picnic area, and nature center. The monument marks the site of the Battle of the Tippecanoe, between the United States (led by William Henry Harrison) and representatives of Tecumseh's Native American confederation. The park and outdoor sites are free to visit, but admission to the museum is $7 for adults, $5 for seniors/veterans/military, $4 for students, and $2 for children ages 16 and under (free for children under 5).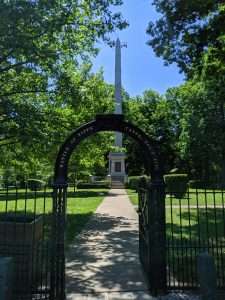 ---
Art and Culture
920 State St, Lafayette, IN
The Haan Museum of Indiana Art and Sculpture Garden houses the largest collection of Indiana art. World Fair enthusiasts will be interested in 15,000 square foot museum, it is a Classic Revival mansion that was originally constructed for the 1904 World's Fair. Outside, the Sculpture Garden features 25 sculptures by Indiana artists on a 0.2-mile, wheelchair-accessible and shaded path. The Sculpture Garden is free to visit and open from dawn to dusk. Admission to the museum is $10 for adults, $5 for children ages 5-17.
---
Delicious Eat and Treats
A visit to Lafayette-West Lafayette isn't complete without taking advantage of their excellent food and coffee scene! Since we were visiting with our teenagers, there was never a moment where we weren't seeking out a meal or snacks. From diner fare to pizza, coffee, and donuts – we found it all!
1830 S 4th St, Lafayette, IN
Mary Lou Donuts is so popular I was afraid there wouldn't be any donuts left by the time we arrived at 10 am on a Saturday morning. We lucked out and were still able to snatch some of our favorites. Mary Lous' has been in business for 60 years. They make their donuts fresh daily and have some of the fluffiest crullers I've ever had! Drive-through and walk-in are available.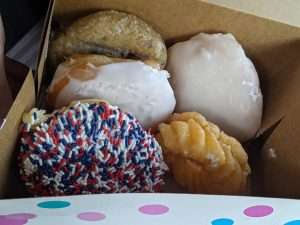 2 N Salisbury St, West Lafayette, IN
If you are serious about your rootbeer, tenderloins, and breakfast, the Triple XXX Family Restaurant is a must-stop on your bucket list to Lafayette. You may have seen the Triple XXX Root Beer in stores, it's a popular brand! Here at the restaurant, you can get it on tap in a frosted mug. It's a delicious experience! Since 1929, Triple XXX has been serving diners food made with real ingredients.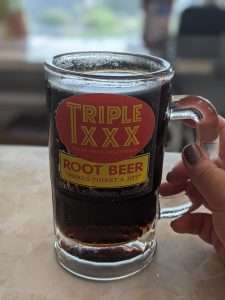 The Food Network's Guy Fieri showcased Triple XXX on Diners, Drive-ins, and Dives, and MSNBC awarded them the Best Diner in the state of Indiana. Their list of recognizations grows and you'll just need to visit to judge for yourself! Indoor counter seating (only) is limited, but they've recently added outdoor seating. There is often a wait time, especially on the weekends, so plan for this in advance.
2200 Elmwood Ave, Lafayette, IN (the original location)
In 1965 "Arni" Cohen opened Arni's at Market Square, it was one of the largest and most successful restaurants in Indiana, with seating for just over 100 people. Today it seats over 500 – that's huge! There are now are eighteen locations throughout Indiana, still owned by the Cohen family. The original location, at Market Square, is filled with themed rooms,  memorabilia, and cool decor like the front of a full-sized semi in the bar, old-time toys, and trains.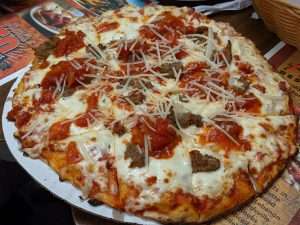 Arni's serves up some great pizza and subs! Go big and get a large legendary pizza. I suggest the Big Daddy or Aiden's Big Show pizzas. For vegetarians, the Mediterranean Salad is a great option!
8. Grab coffee at one of several coffee shops
835 Main St Suite A, Lafayette, IN
Réveille Coffee Bar is a French-inspired coffee shop serving Tinker coffee and specialty drinks, locally made pastries, and Mary Lou donuts.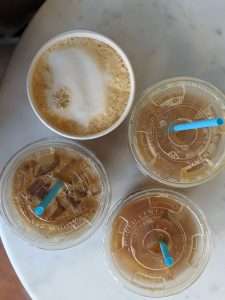 100 Northwestern Ave, West Lafayette, IN
Greyhouse Coffee was started by a church community on the Purdue University campus, with a passion for serving the community. They are a not-for-profit coffee shop serving locally roasted coffee, crepes, gelato, and made-from-scratch doughnuts in a cool, historic downtown building. They have two locations in West Lafayette and one location in Lafayette.
---
9. Check out some of these additional ideas of things to do in the Lafayette-West Lafayette area:
---
Where to Stay
Holiday Inn Lafayette – City Circle
Union Club Hotel at Purdue University
---
Pin It For Later!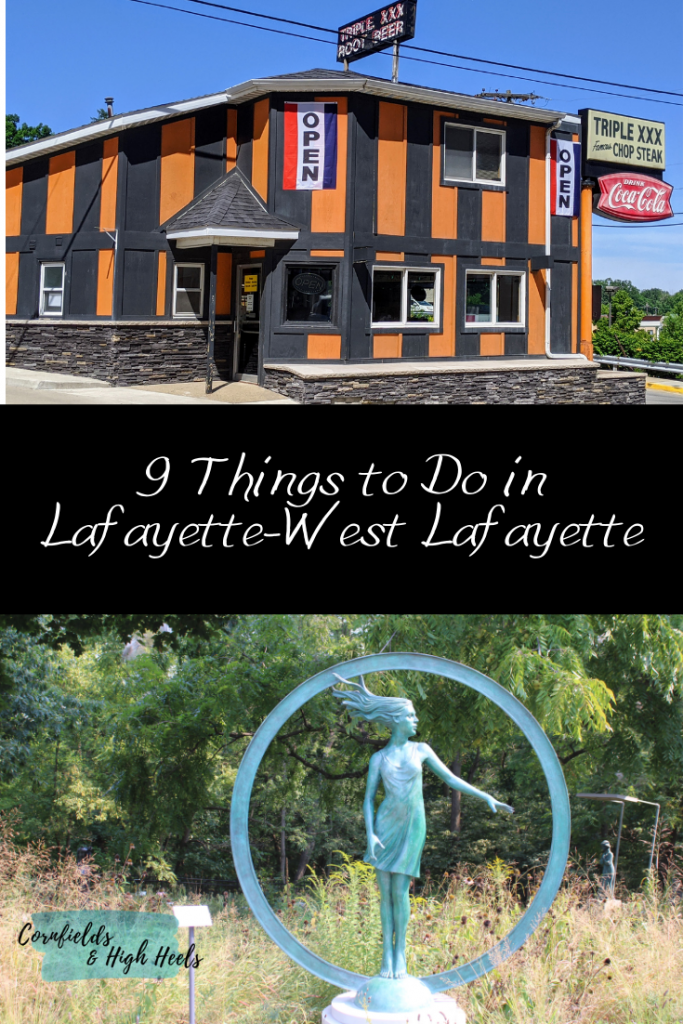 ---
Other articles you might enjoy: