Main Street Roasters in Nappanee, Indiana
In the charming town of Nappanee, Indiana, on the corner of SR 6 & 19, the aroma of freshly roasted coffee beans fills the air at Main Street Roasters. It's one of my favorite smells! Their motto of "roasting coffee, crafting experiences" holds true in the quality of their beans and the inviting atmosphere of their coffee house.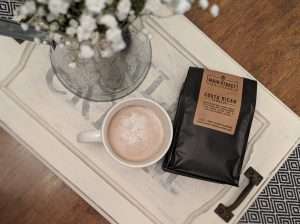 ---
Disclaimer: This is a sponsored post. Blog posts contain affiliate links. When you click on these links I earn a small commission that helps keep this blog running and support my family. If you have any questions, feel free to read my disclaimer and privacy policy. Thank you!
---
I've had the experience of being both, a frequent visitor to their coffee house and using their beans at home. A few years ago, I frequented this cozy coffee house regularly. Since I've relocated to central Indiana I don't get an opportunity to visit as often, but can still order beans through their online store! That delicious aroma has been filling the air of my own home as I've been brewing a few different of their beans.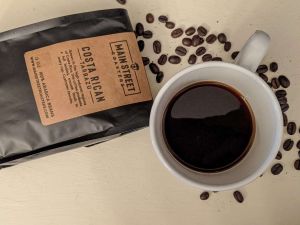 The coffee
Main Street Roasters roasts their own beans using a high-quality, top-notch roaster and over a decade of experience. They offer more than ten single-origin options, including Costa Rican Tarrazu, Ethiopian Yirgancheffe, and Tanzanian Peaberry. For those, like my husband, who prefer a single-origin coffee you have several options to choose from! His personal favorite is the Ethiopian Yirgencheffe (a medium-dark aromatic roast) brewed using a french press.
Most recently, I've been enjoying the Costa Rican Tarrazu. It is a smooth, light roast that is very versatile (also can be purchased in decaf). I've used several methods to brew the Costa Rican Tarrazu and it always comes out tasting great. My favorite method is using a french press or pour-over, and it also makes an excellent Cold Brew!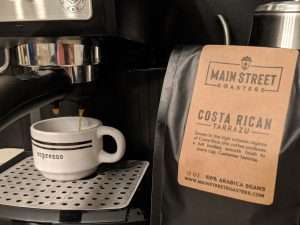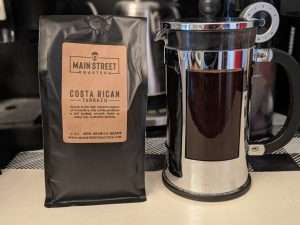 I'm also a fan of their Main Street Blend (they have five blends available), it's a solid go-to cup of coffee. The Main Street Blend is also available in single-serve cups for a quick, on-the-go drink. Main Street Roasters sells individual single-serve cups (K-cup compatible) in 12-count boxes. I've found these to not only be great to have at home but for the office and traveling as well.
If you like flavored coffee, you'll love the Jamaican Me Crazy! They have a large variety of flavored coffees to choose from, including Creme Brulle, Drummer Boy Joe, Fireside Marshmallow, Blueberry Cinnamon Crumble, and Nutty Vanilla Creme (just to name a few!).
For a unique gift, coffee gift boxes are available for a variety of occasions and would be great for a coffee lover (bonus: shipping for gift boxes is free!).  These boxes have cool themes, like "You Are My Sunshine," "Cup of Courage," and "Coffee For Two."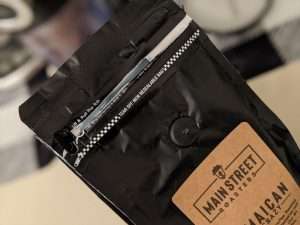 Coffee Shop
Main Street Roasters started in 2003 when owners, Marcus and Debra Miller, made their dream a reality. Their goal of providing the community with a place to connect and gather over coffee has grown even more since then! A few years ago they expanded the coffee house, adding additional space for retail, seating, and meeting. If you stop in, say hello to the Millers (and mention Jamie from Cornfields & High Heels sent you)! You might even find Marcus roasting beans or chatting with customers about the latest coffee or best methods for home brewing.
The coffee house features three levels of seating, a library, and Alli Cat's Cafe, a kid's mini coffee bar play area! The library is located on the third floor and is free to use, offering cozy corners to study and read in, or a laptop bar overlooking the main floor. The library has books to borrow while visiting, or you can purchase a new book in their retail section.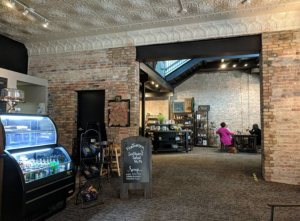 There is plenty of seating to be found on all three levels! Leather chairs, exposed brick walls, wooden tables, and exposed ceilings give Main Street Roasters an inviting, warm, and vintage look and feel. I have several memories of sitting around those tables with friends, drinking warm lattes while our kids enjoyed smoothies, Italian sodas, and baked goods. Or meeting up with loved ones for a bite to eat from their lunch menu (the Marco salad is my favorite!). In addition to coffee and drinks, Main Street Roasters has a great breakfast and lunch menu!
Order online
All coffees, teas, mugs, and merchandise is available in the Main Street Roasters online store!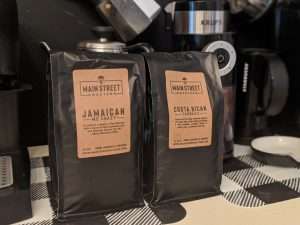 Items available in the online store:
Coffee blends
Flavored coffee
Single-origin coffee
Single-cup coffee
Teas and chais
Main Street Merchandise
Gifts and Gift Cards
Mugs
Brewing Accessories
Coffee gift boxes
Loyalty Club
While shopping online, don't forget to sign up for their loyalty club, Roaster Rewards! You can earn Roaster Points through shopping, referring others, and sharing on social media. Once you've accrued 50 Roaster Points, you'll earn a $5.00 credit towards your next purchase. It's free to join, and you'll get 10 bonus points just for signing up!
Information
---
Pin It!