Traveling Safely During a Pandemic
Let's talk about traveling safely. We are in the midst of a global pandemic that has caused a lot of us to stay home and rethink travel. In fact, staying home is promoted in order to stop the spread of the virus. It's been a challenging time for travel writers. How do we still promote travel, yet also promote following the guidelines and be safe? For me, the answer is simple: to introduce my followers to new ideas and opportunities that promote travel in ways that are safe for yourself, your family, and others.
The American road trip is back and bigger than ever! More people will be hitting the road and choosing to travel by car. Personally, I love a good road trip, I will usually choose this over flying if I have the option.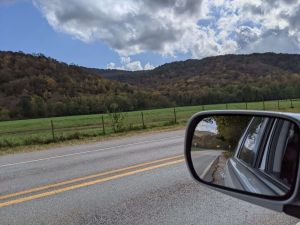 ---
Disclaimer: Blog posts contain affiliate links. When you click on these links I earn a small commission that helps keep this blog running and support my family. If you have any questions, feel free to read my disclaimer and privacy policy. Thank you!
---
As we enter almost a year of social distancing, quarantining, and in reality – a new way of life, I think many new practices will be here long-term. Safe practices, that is. I've spent this year traveling (primarily around my own state), and have taken advantage of opportunities that have offered new and safe experiences. I'd like to share with you how we have successfully and safely traveled this past year.
---
The standards
You've heard these over, and over, but it's worth the repeat.
Don't travel if you are sick (or have been exposed and should be quarantined). I'd like to extend this by saying also don't travel if anyone in your household is sick or under quarantine.

Social distance from others and wear a mask inside (or when you are unable to be 6 feet apart).
Tips for a safe road trip
Traveling via road trip will be safer than on a plane. It is definitely possible to travel safely by plane as well and I'll discuss those next.
Check travel guidelines for all the states you will be traveling through. You can do this by check the state pages (ex. in.gov) and the CDC state links here.

Prepare your vehicle: check tires, brakes, fluids, oil, windshield wipers, etc. 

Make sure you are packed and prepared for travel, check out my free

"

Road Trip Packing Essentials List

"

for a helpful list of essentials.

Packing disinfecting wipes to wipe down the steering wheel and door handles regularly, as well as gas pump handles for pumping gas (or wearing gloves). I've even packed a jug of water and hand soap to wash hands when we're at parks or outdoors. 

Keep hand sanitizer, extra masks, disposable gloves, sealable disposable plastic bags, and tissues available in your car. 

Plan ahead for bathroom stops. Rest stops are typically the best options (if they are open), as they allow easy in-and-out access and are regularly cleaned to state guidelines. Use the handicap button for the contact-free opening of doors (at some rest stops, I've noticed signs up advising the use of this). 

Pack your own snacks and drinks! This is easier on the wallets and avoids extra stops.

Use a card versus cash and change. 

Take advantage of dining via drive-thrus, carry-out, and outdoor seating options.

Choose destinations that promote outdoor adventures and fewer crowds.

Opt for Airbnbs for contact-free check-ins and outs. Most hotels are doing a great job at keeping guests safe (check out my article on

"

Staying in a hotel? Hotel safety, guidelines & expectations

"

), however, Airbnbs offer a uniquely safer option. 
Buy at Atlas

. Yes, an old school Atlas will save the day when you are road-tripping and lose a cell phone signal. Additionally, you won't have to stop and ask for direction or pick up a map.

Avoid gyms and pools at the hotel and while you are traveling. Instead take advantage of walking, hiking, biking, etc. to get your exercise in.

If traveling with young ones, opt to take your own strollers, wagons, etc. instead of renting them. 

If traveling remotely, packing a filled

jerry can

is a smart precaution.
---
Tips for safely traveling via plane
I have yet to travel on a plane this year, but I have a few tips from some travel writers who have. Sara Broers, co-owner of the Midwest Travel Network and CEO of Travel With Sara, recently traveled with Delta Airlines and noted that Delta is leaving the middle seat open on flights and the plane boarded by seat number, from back to front. Also, keep in mind that you will need to wear a mask the entire flight unless eating or drinking. 
Valerie, the founder of

Trusted Travel Girl

, recommends cleaning the seat and window/panel of the plane, avoiding eating or drinking on the plane, wearing gloves, and showering/changing clothes as soon as possible after your flight. You can check out more of her tips for safe flying

here.

Kylie, the founder of

Between England and Iowa

, shares tips for flying internationally in her article

"

What It's Like Flying International Long Haul In 2020: My Experience

.

" Kylie notes that the only time she was asked to remove her face mask to check for passport identity matching, this is something to keep in mind when traveling internationally. Also keep in mind that there may be departure and arrival forms that you need to fill out for traveling internationally, these can be filled out online in advance. 
---
Travel accessories? Check out my list of favorite travel accessories here: The Best Travel Accessories on Amazon
---
Pin It!
---
---
Other articles you may enjoy:
Road Trip Packing Essentials {free printable}
Ultimate {free} Art Tour Guide for Columbus, Indiana